When it comes to managing the financial sides of any company, you will hear two huge names i.e Quickbooks and Sage. Both accounting solutions offer features and tools to help your company grows in different ways. But what is better among Sage vs Quickbooks? 
It is not that easy to decide between two as your one decision could lead either to business growth or trouble. Depending on your company requirements and future plans, the decision could lead to either convenient accounting or trouble.
To help you, we can compare the features, similarities, differences, pricing, integrations, customer support. This will help you select the best accounting software. In this QuickBooks vs Sage comparison, we will explore:
What are both accounting solutions?

Similarities as well as differences between Quickbooks vs Sage.

The pros and cons.

What type of industries and businesses use Sage or Quickbooks.

Tips on how you can analyze which one will suit your business.

Also, a list of Sage as well as Quickbooks products.

A lot more.
Sage 50 vs Quickbooks: Overview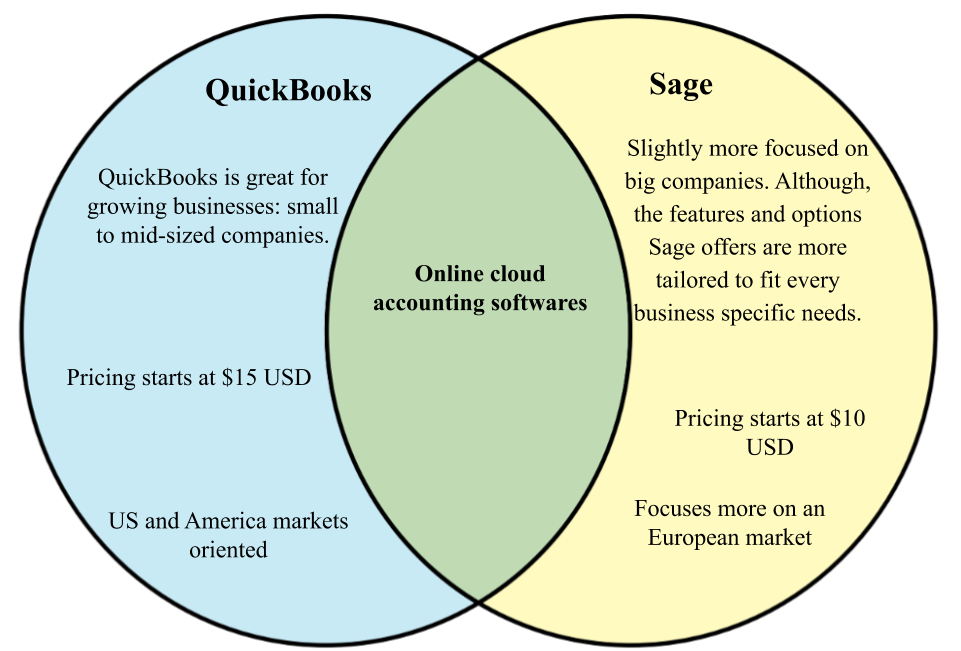 It is a huge brand in the sector of business. It offers hundreds of tools and features to help small firms and businesses. Sage accounting software offers features such as inventory, tax, cash flow, budgeting, and invoicing. There are many add-ons for payroll, credit card processing, and more.
This cloud-based software helps you choose unlimited accounting services according to your business type, size, products, and requirements. Moreover, around a million companies are using this accounting solution making it the best choice for small entrepreneurs. Additionally, multiple users as well can get access to Sage 50 under its trial period.
Coming to Quickbooks, it's a web-based software that assists small businesses, bookkeepers, and accountants. It is an international leader in the industry of financial management software for more than decades. Additionally, over 30 million businesses use this incredible software out of which 80% are small-sized.
QuickBooks can be suitable for any industry, as its user-friendly interface makes suits almost all small businesses. However, the benefits and features you get vary on the edition you choose. All in all, its top-class features include ease of use, invoicing capabilities, and customizable financial reports. QuickBooks also calculates the sales tax rate to apply depending on the customer's address which helps e-commerce a lot.
Sage Accounting Software vs Quickbooks: Key Features
| | |
| --- | --- |
| Quickbooks Prominent Features | Sage Prominent Features |
| Track Sales Tax, Customer Payments, Sales | Inventory Management |
| Track Inventory | Fixed Assets Management |
| Estimates and Invoices | E-Filing |
| Manage Users | Direct Deposit |
| Manage Bills | Manage Users |
| Payroll Taxes | Multi-User Remote Access |
| Company Snapshot | Project Management |
| Tax Agency Reports | Vendor Management |
| Print Checks | Financial Statements |
| Report Center | Cloud Accountant Collaboration |
| Pay online Invoices | Integrated Bank Feeds |
| Sync Bank Data | Mobile Invoicing |
| Automated Tax Calculation | Cash Flow Management |
| Automated Online Banking | Tools Related to Tax Compliance |
Sage 50 Accounting vs QuickBooks: Pricing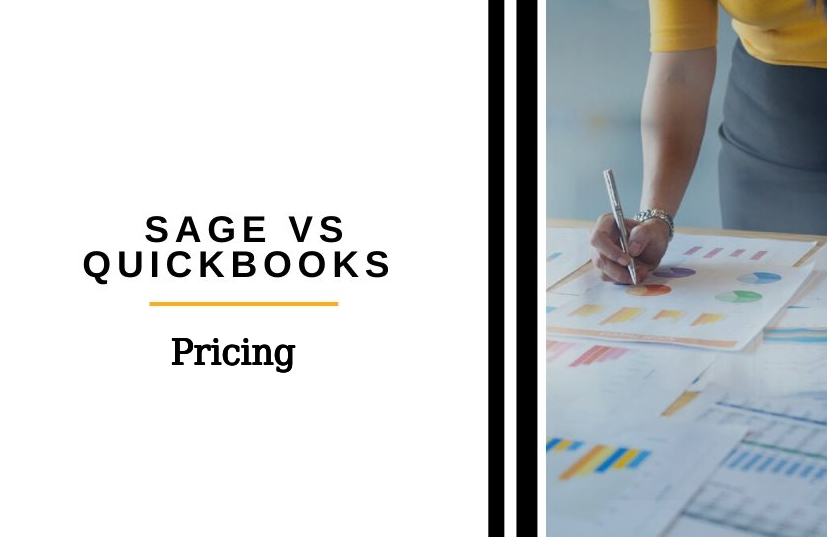 Talking about Sage vs Quickbooks, both are billed monthly and annually. The cost depends upon the users' numbers as well as the features needed:
Sage 50 Pricing
The Sage accounting software offers three plans, that you can bill on a monthly basis:
Pro Accounting: For this, you pay $56.08 monthly. This plan supports one user.

Premium Accounting: For this, you pay $84.58 monthly for a single user. Additionally, at $194.75 monthly, you can make it support five users.

Quantum Accounting: For this, you pay $139.58 monthly for a single. Additionally, at $356.83 monthly, you can make it support ten users. You can also do custom pricing if you need it for more than ten users.
The Sage 50 plans include inventory, core vendor, and job management features. Also, the Premium plan incorporates advanced budgeting tools as well as industry-related functions for manufacturing, construction, and distribution. The Quantum plan adds features to handle multiple companies.
In each plan, you get a service that enables you to keep the data in the cloud via the Sage server. Once activated, you, your team, and the accountant can access the data via any device. Note: They all must have Sage Cloud installed.
Sage 50 offers add-on Payroll services for every subscription level. The cost varies accordingly with the accounting plan and the user's number.
Sage 50 Pro: Price- $91.08 monthly for 10 employees and one user. At $117.08 monthly, it can support 40 employees and one user.

Sage 50 Premium: Price- $119.58 monthly for 10 employees and one user. At $255.75 monthly, it can support 40 employees and five users.

Sage 50 Quantum: Price- $174.58 monthly for 10 employees and one user, At $417.83 monthly, it can support 40 employees and 10 users. 
QuickBooks Pricing
In Quickbooks, you get five different plans, and you get basic to advanced features as per your pay. So, somehow, it suits small as well as established businesses. Let's check out the Quickbooks small business plans prices below:
Self-Employed: Price- $15 monthly for a single user.

Simple Start: Price- $25 per month for a single user.

Essentials:  Price- $50 per month, for up to three users.

Plus: Price- $80 per month, for up to five users.

Advanced: Price- $180 per month, for up to 25 users.

QuickBooks Live: You have to pay additional fees for QuickBooks Live:




–Low volume: Price- $200 monthly, which is for around $25,000 monthly expenses.




–Medium volume: Price- $400 monthly, which is for around $150,000 monthly expenses.




–High volume: Price- $600 monthly, which is for around $150,000 monthly expenses.
Sage vs Quickbooks: Customer Support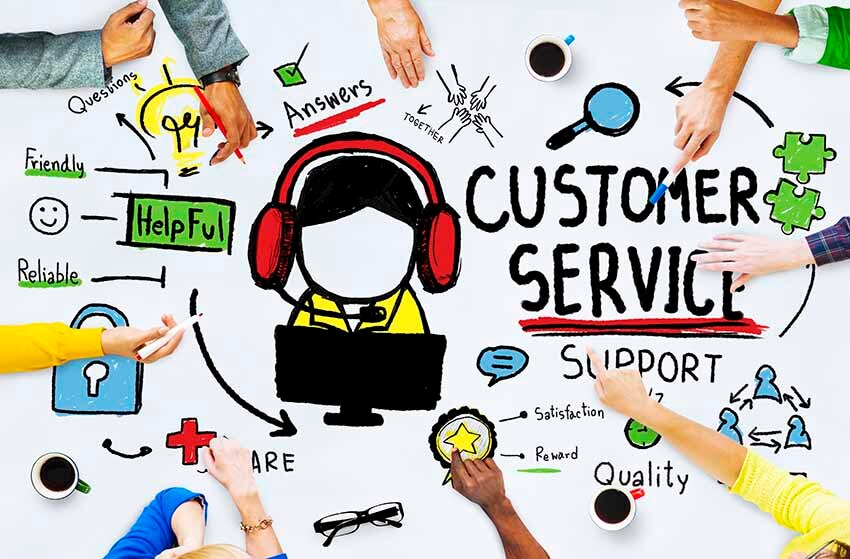 Customer support is an important aspect when deciding between Sage and Quickbooks. If a user faces trouble and can't resolve the issue on its own, then it is obvious he/she will contact the support team. However, if the user gets poor customer service then he/she will think to change the software. Isn't it bad? So, let's check if the customer support facility of both accounting solutions is up to the mark or not.
Sage Customer Support
Sage offers numerous customer support options to its users. With both of their accounting plan options, it offers customer support service via email, phone, and live chat.
Also, Sage on its website provides self-service resources, including blogs, a community forum, training tools, and a support center. Unlike other software, Sage offers you three contact alternatives, enabling you to get guidance the moment you need it.
Quickbooks Customer Service
If we compare Sage vs QuickBooks, you can get QB support within the program as well on its website also. Its searchable knowledge base incorporates help pages, webinars, video tutorials, and paid courses. Only tap on the tab "Contact Us" to get to the support team.
Additionally, you can message an agent straightly or type up your doubt in a community seminar. However, you get a 24×7 support facility in the QB Advanced plan. Also, you first have to submit a call request then only you will receive a call from the concerned team. Get more information here Detailed Comparison of Quickbooks vs Quickbooks Online.
Quickbooks Offers:
Firstly, the user community

In-product help

Featured articles

Support Agent via telephone

Product training options

Support Agent via email

Searchable knowledge base

Lastly, support agent via messaging
Talking about the free trials of Sage vs Quickbooks, QB software charges you automatically once the free trial ends. However, the free trial of Sage offers complete access to the software. It also offers you the freedom to decide if the features are up to the mark or not.
Sage vs QuickBooks: Integrations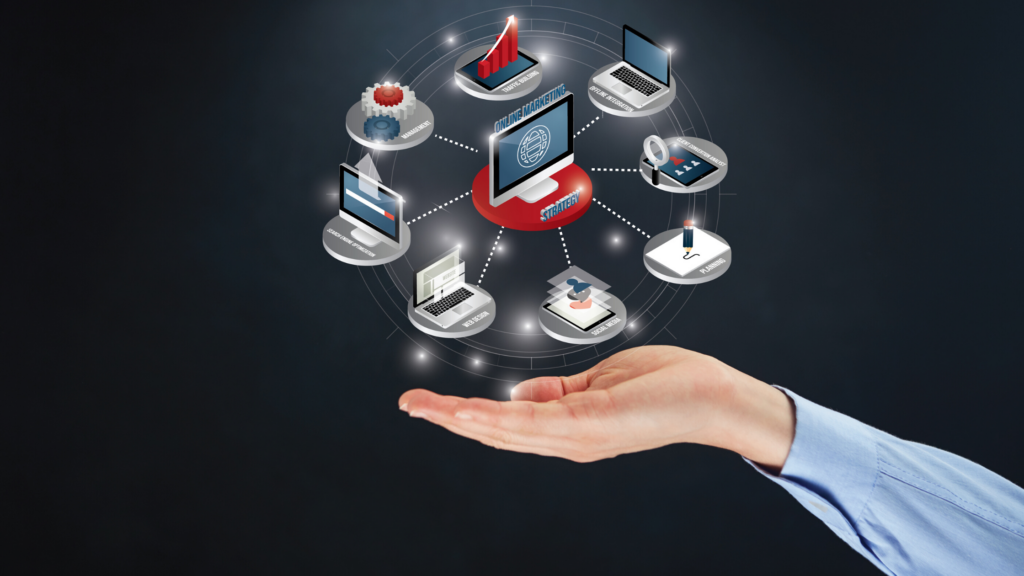 Sage accounting software has 73 integrations whereas QuickBooks has 700+. While Sage's integrations focus on apps that are associated with Ms 365, QuickBooks software offers huge integrations such as Shopify by OneSaas, QuickBooks Payroll, Fathom, and Service Trade.
Sage 50 Integrations
Time tracking: Timeslips, Sage, Journyx.

E-commerce, brick and mortar stores: Shopfront as well as ProShop.

Microsoft apps: MileIQ, Microsoft365, SharePoint, OneDrive, Outlook Customer Manager, Microsoft OneDrive, Teams.

Process payroll: PayClock.

Manage expenses: SnapAP.

Payment management: Credit Hound, age Payment Solutions, Stripe, and PayPal as well.
QuickBooks Integrations
You can access Quickbooks Time and Payroll directly from the software. Quickbooks integrates with plenty of third-party apps.
QuickBooks Time: You can make use of the mobile app to monitor. Also, you can bill it to the clients or utilize it for payroll within QBO. Time incorporates many advanced features, such as facial recognition and GPS tracking.

QuickBooks Payroll: Tap on QB Payroll within the software and use all payroll functionality.
The integrations available for QB Online are:
Inventory tracking: Shopify by OneSaas,  eBay by OneSaas, Amazon (FBA), Entriwise, and Katana Inventory as well as Manufacturing.

Time tracking: ClockShark, QuickBooks Time, and eBillity.

Handle customers: Method: CRM, WORKetc, Insightly CRM, and Capsule CRM.

Pay bills as well as receive payments: Deluxe eChecks, Bill.com, Veem, and Plooto.

Perform analytics: Qvinci, Syft Analytics, LivePlan, and Fathom.

Handle projects: Corecon, Service Trade, Jobber, Knowify, BigTime.

Process payroll: Gusto, QuickBooks Payroll, Paychex, and ADP.
Takeaway: QB has clearly more integrations, however, Sage 50 integrates well with only Microsoft 365. All in all, it allows users to access Microsoft products.
Sage vs Quickbooks: Advantages and Disadvantages
Talking about the pros and cons, both Sage vs Quickbooks accounting software have their own merits and demerits. Depending on their features and plans, both suit different industries. 
Sage Pros and Cons
| | |
| --- | --- |
| Pros | Cons |
| Accounting, inventory, and stock handling. | Difficult as well as time-consuming setup. |
| High security. | Not that easy to use. |
| Cost-effective. | Lacks time-saving automation. |
| Easy access. | Some features are complicated. |
| Paperless environment. | The uncluttered homepage makes the system imposes. |
| Round-the-clock support. | Lack of efficiency in a journal entry. |
| Easy collaboration. | Limited in format. |
| Increased productivity and efficiency. | Extra charges for additional support service. |
| Least downtime issues. | Difficulty in importing data. |
| Save on all software upgrades. | Sometimes software lags. |
Quickbooks Pros and Cons
| | |
| --- | --- |
| Pros | Cons |
| Accounting professionals suggest it. | Requires upgrades for extra users. |
| Scalable. | Subscription is not affordable. |
| Integration with applications. | Syncing issues when users make payments via cards. |
| Mobile app | No industry-specific features. |
| Cloud accounting. | Instability/system crashes. |
| Powerful accounting services. | Limited users. |
| Easy interface. | File size problems. |
| Great payroll support. | Limited transactions. |
| Contacts records. | Less invoicing tools. |
| Cash flow pages. | Prone to errors. |
| Customizable reports. | Sometimes software lags. |
| Cloud-based. | Limited plans. |
Just like any other accounting software in the market, Quickbooks also has a few merits and demerits. Let's explore.
Sage vs Quickbooks Supported Services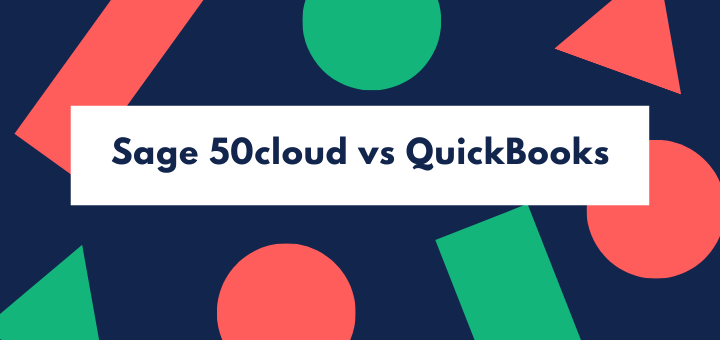 Mobile apps: Talking about Sage vs Quickbooks, both support mobile apps for Ipads, iPhones, and Android devices. With these services, all important functions can be performed on the apps such as expense tracking and project collaboration. 
Online access: Both Sage 50 vs Quickbooks offer access to internet-connected devices. You can also sync data across numerous devices online. No matter what, if mobile apps don't support your device, you still can log in and check the account data using a mobile browser.
Cloud support: QuickBooks and Sage 50 use cloud servers in order to sync details over all devices.
Compatibility: Both QuickBooks and Sage can be easily used alongside each other but both are not directly compatible.
Bank accounts: In Quickbooks users can add bank as well as credit card accounts. The account details get automatically synced over the QB software. In Sage One also, users can add their bank accounts, however, transaction details will not sync automatically.
Online payments: Sage 50 allows users to approve payments via PayPal. Also, users can select to use Sage Payment Solutions, an online built-in payment processing system that accepts payments from credit cards in exchange for transaction charges. However, you don't get this feature in QuickBooks.
Types of Companies That Go For Quickbooks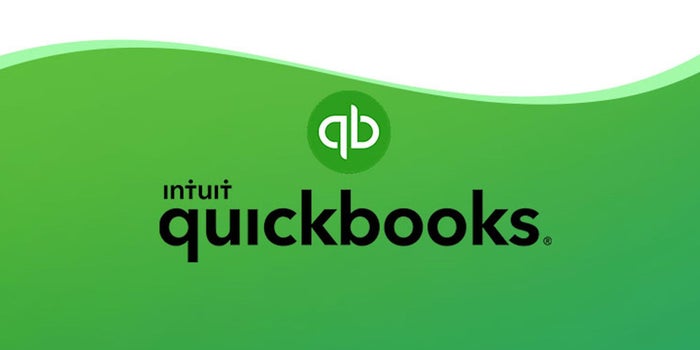 QuickBooks is ideal for new start-ups and small businesses that need introductory accounting solutions and normal inventory management. It is best for the following industries:
Medical Services

Legal Services

Retail

Self-Employed Freelancers

Accounting

Also, small to Medium-Sized Businesses
Types of Companies That Go For Sage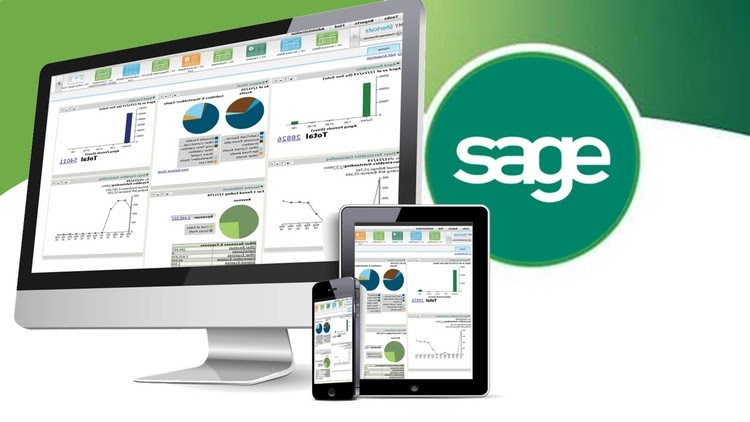 Sage is ideal for large businesses, that want to grow, or companies having project management and robust inventory needs. It is best for the following industries:
Wholesale Distribution

Manufacturing

B2B/B2C Retailers

Non-Profits

Also, medium to Large Businesses have Huge Inventory
Final Words
Deciding which accounting solution is best for the growth of your company depends on numerous factors. This is why we have included all important aspects in this detailed comparison of Sage vs Quickbooks. Here you explore the comparison between features, prices, integrations, pros, cons, customer support, and many more.
Also, if you still can't make a decision then why not try a free trial? Both accounting solutions offer free trials. moreover, trying it offers you the freedom to decide if the features are up to the mark or not.
All in all, whatever you choose, choose it wisely as your one decision can make your company's future. Also, use the latest version of each software to get access to complete features and tools.
We hope that this guide helped you pick the best accounting software. You are welcome to write your feedback below.