We know that in today's world the generation is more inclined towards making money through businesses. But managing a company is not as easy as it seems from the outside. You have to handle complex financial tasks such as tracking income, expenses, tax, payments, invoices, tax filings, and a hundred more. All these tasks can't be performed manually by humans. This is because it is time-consuming and the chances of errors are high. This is why hundreds of professional accountants, as well as company owners, use accounting software to manage technical accounting tasks.
Accounting software performs all these tasks fastly and accurately. Thus, it means you not only save time but also make fewer mistakes than human processing. Also, important documents, receipts, transactions can be stored and accessed anytime that help a business to reach higher.
But now the serious question is, how to pick the top accounting software that aids in the growth of your business coupled with being pocket-friendly.
Well, just leave this burden on us and read this informative write-up till the end. Read the best 7 accounting software based on ratings, customer satisfaction, prices, features, tools, what you should consider in all software. Let's start.
7 Best Accounting Software In 2021: Complete List With Details

 
We are here with the list of the top 7 Accounting Management Software 2021 to help you decide the best one for you. Read below further.
Intuit Quickbooks 2021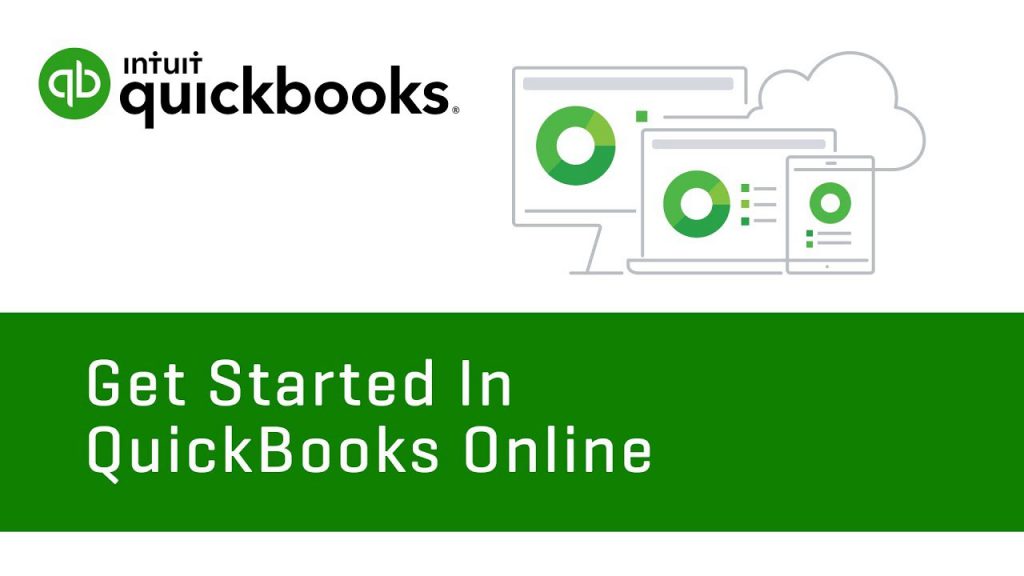 Numerous professionals, as well as business owners, trust this leading software to manage companies. There is nothing that Quickbooks can't do. Accountants praise this leading software for its effectiveness, affordability, and simple interface.
Small and medium businesses find this software useful because it offers them hundreds of features such as integration with the bank. This bookkeeper software offers online training courses, forums, and support to help users everywhere. Moreover, you can find all the features in one single dashboard which makes it easy to understand. All in all, it involves various repairing tools to fix bugs, technical glitches, and errors.
| | |
| --- | --- |
| Pros | Cons |
| Firstly, it is suggested by accounting experts. | It requires an upgrade for including more users. |
| Secondly, integration with other software/applications. | The subscription is a bit expensive. |
| Scalable. | Users face syncing issues while using debit/credit cards during bank work. |
| Cloud accounting | |
| Mobile app. | |
| Provides great small business accounting services. | |
| Friendly interface. | |
| Cloud-based. | |
| Contacts records and transaction forms. | |
| Great payroll support. | |
| Customizable reports. | |
| Lastly, cash flow pages. | |
Pricing 
Once you finish the 30-day trial for free, Quickbooks gives you the following subscriptions plans:
Simple – $25 for a month.

Essentials – $40 for a month.

Plus – $70 for a month.

Advanced – $150 for a month.
Xero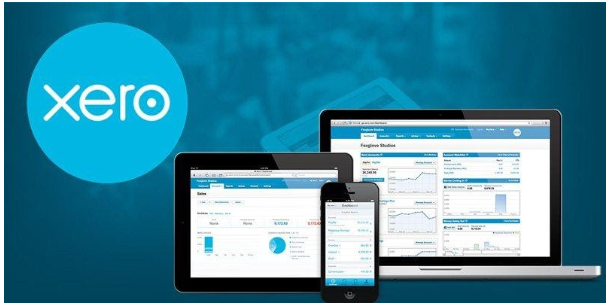 This amazing financial software is suitable for the users managing micro-businesses. Xero offers impeccable features as well as a clean interface. 
What makes Xero unique is that its subscription plans support unlimited users which means you can add extra employees without paying any additional cost. Further, this helps your business to grow because, unlike other software, Xero does not charge any cost per employee/user. 
Moreover, Xero offers plans for sole traders, freelancers, entrepreneurs just starting, enterprises, and well-established businesses.
| | |
| --- | --- |
| Pros | Cons |
| Firstly, additional business views. | Doesn't offer call or chat assistance. |
| Excellent dashboard. | Requirement of stamped icons for a fresh invoice. |
| Project tracking. | Unclear mobile apps. |
| Better setup process. | Expenses are handled in separate mobile apps. |
| Interactive quotes. | There is no reorder level. |
| Smart Lists. | Limited expense claims |
| Satisfactory online support. | No function of 'Debtor Chasing' |
| Reconciliation tools. | Poor customer service |
| Lastly, it integrates well with Gusto. | Slow performance |
Pricing 
Xero gives its users the following subscription choices.
A complete service payroll: Early – $9 for a month.

Growing – $30 for a month.

Established – $60 for a month.

Gusto gives a full-service payroll option for which you will have to spend – Additionally $30 for a month and $6 more per user/employee. 

Moreover, you will get a 30-day trial for free by Xero and also a 40% off promotion for the following 2 months. 
FreshBooks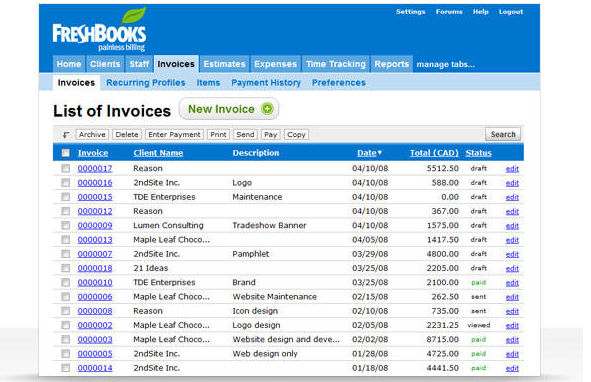 FreshBooks is suggested by professionals for being super user-friendly and providing amazing invoice customization. This incredible software helps you pay, send, receive and even print invoices at your fingertips. Let's check its pros and cons. read below further.
| | |
| --- | --- |
| Pros | Cons |
| Firstly, easy double-entry accounting. | Low invoice customization. |
| Incredible user experience. | Weak setup assistance. |
| Amazing team collaboration. | There are low dashboard deficits. |
| Customer records in detail. | Mobile apps lack some site features. |
| Tools for Time tracking. | No Quarterly tax approximates. |
| Inventory tracking. | |
| Automatic IOS tracking. | |
| Lastly, supports Proposals. | |
Pricing 
Freshbooks offers a 30-day trial for free and after that, you will be asked to pay for subscription plans.
Lite plan – $15 for a month, Ability to bill up to five clients.

Plus Plan – $25 for a month, Ability to bill up to 50 clients.

Premium Plan – $50 for a month, Ability to bill up to 500 clients.
Wave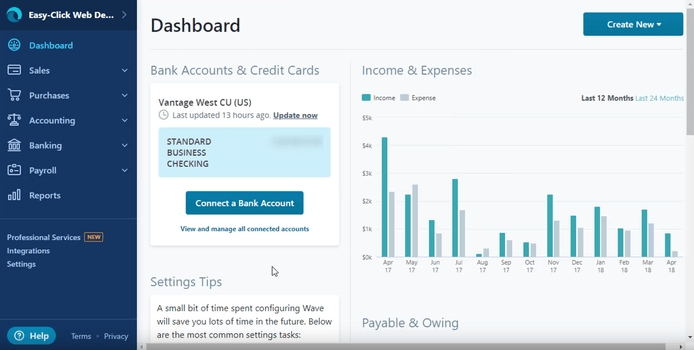 Wave is one of the best accounting software for small businesses as it is free accounting software. Its services, tools, features are all free except payroll services and credit card processing. And we believe that is not a big deal. 
What makes this software better is the range of exciting tools it provides such as expense tracking, income and invoicing tracking, scanning receipts, financial recording, and many more. You can access and use these features on your mobile app as well.
| | |
| --- | --- |
| Pros | Cons |
| Free receipt scanning, accounting, and invoices. | Limit on integrations with third-party apps. |
| Ability to run many businesses via one account. | High ACH and credit card payments. |
| No limits on billings or transactions. | Limited database because only 14 states own the complete service payroll. |
| Unlimited users. | Absence of inventory management. |
| Mobile app. | Limited features. |
Pricing

 
2.9% – Processing fee of a credit card.

$0.30 – For Discover, Visa, and Mastercard 

3.4% additional $0.30 – For American Express 

For bank payments: 1% per transaction which implies a $1 minimum charge.

$35 monthly Payroll, an additional $6 per active employee, and a $6 fee per independent contractor.
Also Read, Wave accounting software vs Xero accounting software
Quicken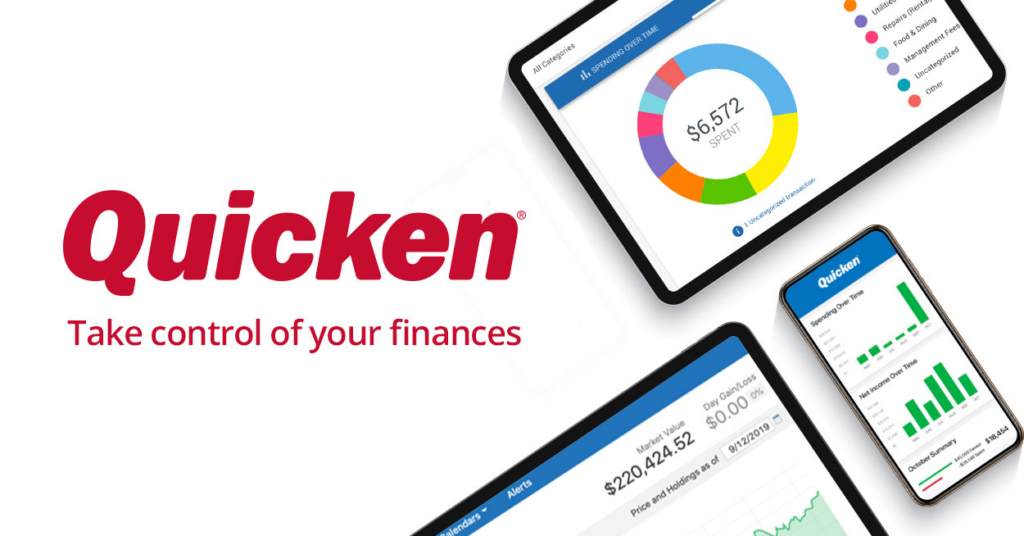 Quicken comes under the top 10 when it comes to the best small business accounting software. It is developed especially for individuals and small families as it offers finances, financial planning, etc for personal management. Its advanced version helps you track rental properties along with personal information and data. Moreover, Quicken provides you access to various devices.
| | |
| --- | --- |
| Pros | Cons |
| Financial Reporting. | It is not compatible with the core accounting system. |
| Billing & invoicing. | No payroll services. |
| Plan Personal Finances. | Can't carry out important things like inventory management. |
| Expense management. | Complex transaction importing. |
| Keeps track of investments, transactions, account balances, loans as well as personal budgeting, etc. | Sometimes Software automatically starts hanging. |
| It functions smoothly on personal investments, rental rates, tenants, rental properties lease terms, retirement accounts, and many more. | Complex subscription plans. |
Pricing

 
For Quicken Starter: The cost is $34.99

Quicken Deluxe: The cost is $44.99

For Quicken Premier: The cost is $67.99

Quicken Home/Business: The cost is $89.99
You might like, Quicken Home and Business vs Quickbooks – Superlative Comparison
Sage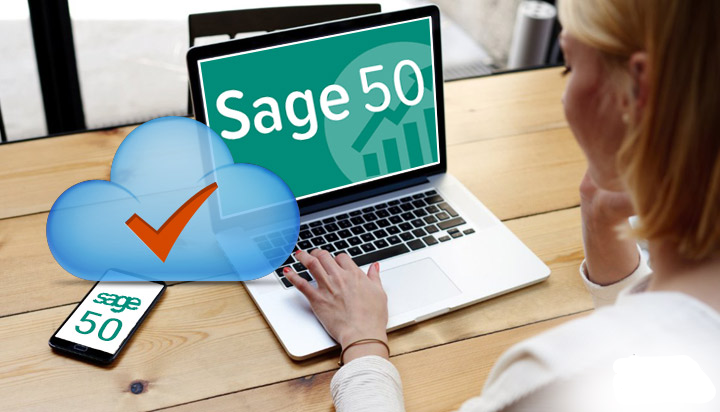 Sage one or Sage Business Cloud Accounting is a brand in the business sector. It provides thousands of features to aid small firms & companies.
Currently, Sage is a cloud-based software and you can decide on unlimited accounting services as per your company size, industry type, and requirements. 
Additionally, more than a million business companies use this software making it one of the amazing accounting solutions for entrepreneurs. Even multiple users can also enjoy access to Sage under the period of its trial.
| | |
| --- | --- |
| Pros | Cons |
| Management of payroll services. | Set up is difficult as well as time-consuming |
| Customize invoices. | Complicated features |
| Access on multiple devices. | Complex interface and staff need training |
| Cash flow management. | Lack of Efficiency in Journal Entry |
| Business finances management. | Cluttered homepage |
| Integration with Zync & AutoEntry along with bank institutions. | Security concerns |
| Tools for tax compliance. | Lack of support and documentation |
| Easy payments as well as transactions. | Poor customer service |
| Features for human resource management. | Costly |
| Convenient sharing and access. | Fewer ratings |
| Inventory management. | Complex tools |
| User-friendly financial reports and easy dashboard analysis. | Fewer features |
Pricing
The accounting software Sage offers a 30-day trial for free along with a 50% promotional off for the coming 3 months. 
Entry-level accounting: $10 for a month (Only services related to cash flow management) 

Powerful cloud accounting: $25 for a month (Invoicing, cash flow management, and actual entries)
Zoho Books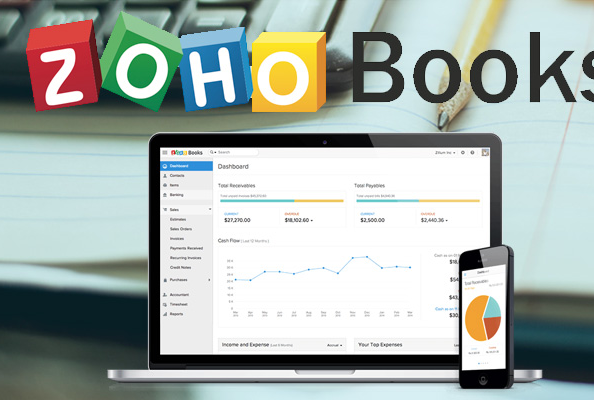 This is an online account management software developed especially for small firms. Zoho Books offers aid in creating invoices, tracking finances, and many more. Additionally, it also involves numerous features such as inventory management, CRM (customer relationship management), human resource system, etc.
| | |
| --- | --- |
| Pros | Cons |
| Client portal. | No Payroll Services |
| Tax compliance and Audit reports. | Plan restrictions |
| Reports and schedules. | Limited Integration Options |
| Detailed invoicing. | Functions hard to understand |
| Sales orders. | Expensive |
| Reconcile bank transactions. | Complex features |
| Accounting end to end. | Software lags |
| Feature of auto tax calculations. | Difficult interface |
| Sales tax reports and 1099 forms as well can be exported. | Not user-friendly |
Pricing
Basic: $9 for a month (For 2 users and upto 50 contacts).

Standard: $19 for a month (For 3 users and upto 500 contacts).

Professional: $39 for a month (For 10 users and upto 500 contacts).
Final Take
This informative post educates you with the best information you need on 7 top accounting software 2021. These include QuickBooks, Xero, FreshBooks, Wave, Quicken, Sage, and Zoho Books. 
Now you can easily decide which software will be best for your company's growth. Here you get to read the features, pros, cons, and pricing of each accounting software. This will assist you to choose anyone according to your budget and demand. 
All in all, we believe that you will make a good decision as per your requirements. Whatever you choose, please tell us in the comments section to encourage other readers.