Talking about Quickbooks vs Quickbooks Online, both are Intuit products and excellent accounting software for small businesses. Both offer automated closing entries as well as double-entry accounting. The major dividing factor between Online vs. Desktop is that QuickBooks Online does not need any installation on a system as it is a web-based software. On the other hand, Quickbooks Desktop is a locally installed platform.
If you are thinking about switching to QuickBooks Online or from Desktop to QuickBooks Online, then you first have to go through a detailed comparison between both.
While both offer incredible features, tools, and functionalities, only you can decide the best between the two. Further, let's compare both the accounting solutions in detail to help you decide the best from features to pricing. 
Quickbooks Online vs Desktop: Key Features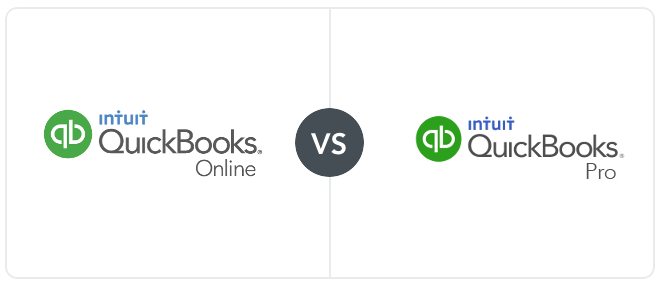 It is important to understand where Quickbooks Desktop and Online differ and excel. Let's find out.
Features of QuickBooks Online 
Since Quickbooks desktop came first, it obviously includes more features. However, integration with third-party apps as well as software in QBO fills those gaps. Let's learn more features that are available in QB online but not in Desktop:
Attach images, documents signatures, and transactions via mobile & desktop.

You can automatically schedule as well as send transactions.

Track by location.

Use audit logs to track changes and review actions.

Automatic bank transaction nightly sync with an option of undo.

Seven extra-label options to relabel your customers.

Feature of auto-add bank rule.

Custom banking rules feature by dollar value, class, percentage, and location.

Users with unlimited reports.

Unlimited time tracking.

Also, journal entries are possible with numerous AR/AP lines.

Delayed credits and charges can be scheduled for future transactions.

Management reports. 

Multiple budgets as per fiscal year.
Features of QuickBooks Desktop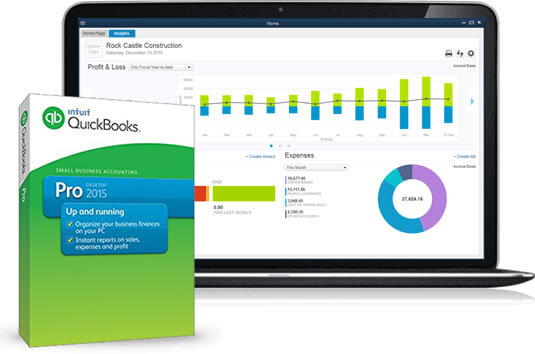 Normally speaking, QuickBooks Desktop has the capability to beat QBO in handling job costing by managing huge amounts of inventory. This makes it a great accounting solution for retail stores.
Also Quickbooks Desktop offers some features that you cannot find in QBO. If you can't survive without the features mentioned below, you should only go for QB desktop.
Data Entry Features
Billing rate levels

Create batch invoices

Enter batch timesheets

Enter batch transactions

Pay vendors online via ACH
Job Costing Features
Reports of estimate as well as actual job costing 

Job costing module

Payroll job costing

Mileage tracking

Change orders as per estimates

Labor burden costing

Markup column
Reporting Features
Multiple vendor ship-to addresses

Industry-specific reporting

Business planner by class

Forecasting by class

Balance sheet by class

Better report header and footer customization
Inventory Features
Set and handle inventory reorder 

Valuation method for average cost inventory

Sales order

Getting partially on purchase orders

Build assembles 

Manufacturing features

Availability to promise

Unit of measure
Accounting
Condense file

Backup as well as restore feature

Tools for client data review

Period copy

Undeposited funds related to clean-up

1099 feature

Fix unapplied credits as well as payments

QuickBooks statement writer

Fix sales tax

Post to AR/AP accounts
Quickbooks Online vs Enterprise: Pricing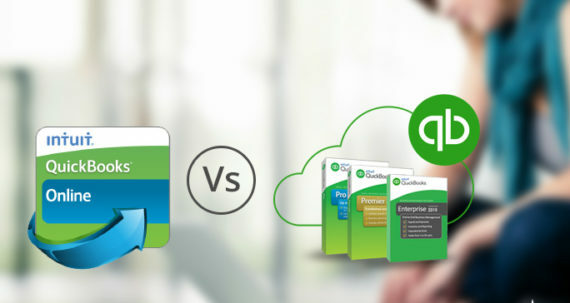 Pricing is the deciding factor in choosing between Quickbooks vs Quickbooks online. Both have different pricing plans. QuickBooks Online is accessible via monthly subscription, whereas you have to pay an annual cost for QuickBooks Desktop.
What QBO Offers
Simple Start: Subscription Plan $25 for a month (For One user). This plan is ideal for independent contractors and sole proprietors.

Essentials: Subscription Plan $40 for a month (For Three users). 

Plus: Cost- Subscription $70 for a month (For Five users).

Advanced: Subscription Cost- $150 for a month ( For 25 users).
Also, you get a 30-day free trial, where you can use QBO without paying anything. This can help you decide if it suits your business type or not.
What QB Desktop Offers
The QB desktop pricing depends on the plan you take. However, here all the plans are on an annual subscription which makes it extra affordable than QBO.
The plans of QuickBooks Desktop are:
Pro

: (Ideal for smaller businesses looking for a beginning-level accounting solution. The QB Pro supports three users and is capable of tracking both expenses and income, invoicing customers, and managing inventory.

Premier

: QB Premier supports five users. It offers features for niche businesses like Manufacturing and Wholesale, General Contractor, Retail, and Nonprofit. If you want to report functionality and industry-related accounting then Premier is best.

Enterprise

: It is ideal for growing businesses. Quickbooks Enterprise supports 30 users and offers each feature available in Pro and Premier. Its additional features are enhanced pick, mobile barcode scanning, pack, and ship making it suitable for retail businesses.
QuickBooks Product and Annual Cost
Online Essentials 3- User – $420

Online Plus 5-User- $735

And Online Advanced 25-User- $1,575

Desktop Pro3-User- $299

Desktop Premier5- User- $499

And Desktop Enterprise30- User- $1,213
Costs: QuickBooks Online vs. Desktop Comparison Chart
QUICKBOOKS ONLINE
QUICKBOOKS DESKTOP

Simple Start: $25 monthly

Pro: $399.99 (Single-time fee); And Pro Plus $299.99 annually

Essentials: $40 monthly

Premier: $649.99 (Single-time fee); Premier Plus $499.99 annually

Plus: $70 monthly

*Enterprise, local-only:




For Gold plan: $1,577 annually




The Platinum Plan: $1,940 annually




And Diamond Plan: $3,825 annually

Advanced: $150 monthly

*Enterprise, with hosting:




For Gold plan: $175 monthly




The Platinum plan: $206 monthly




And Diamond Plan: $363.79 monthly
Quickbooks Enterprise vs Online: Customer Reviews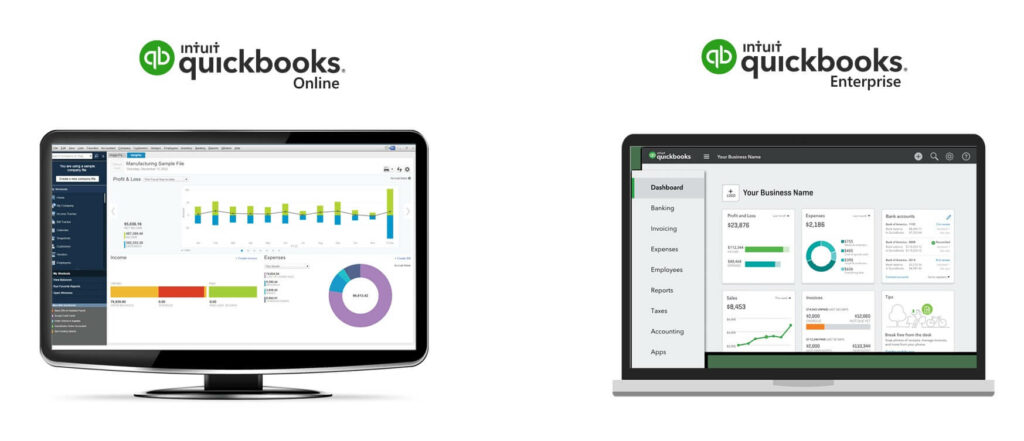 QuickBooks Desktop is hosted locally whereas QBO Online is normally web-hosted. QBO offers more accessibility, is extra mobile-friendly, has excellent features, and Desktop is advanced in managing inventory, data, reporting capabilities and job costing.
If you are still unable to decide among Quickbooks online vs Desktop 2020. Then checking customer reviews can be beneficial in understanding what others have to say about both the accounting solutions.
QBO Customer Reviews
Well, QBO is highly rated across the Internet by customers. On huge review-related sites, QBO receives an average rating of 4.1 stars or above. Most reviews of QuickBooks Online are positive and bear some criticism also. But the positive side immediately overshadows it.
All in all, here are some pros and cons of QBO after reviewing the online reviews.
| | |
| --- | --- |
| Pros | Cons |
| Accounting professionals trust it. | Upgrades are needed for more users. |
| Scalable. | Subscription is not affordable. |
| Integration with various applications. | Syncing trouble during payments through cards. |
| Mobile app | Industry and business-related features can't be found. |
| Cloud accounting. | Instability as the system crashes. |
| Amazing business accounting services. | Limited users. |
| Easy interface. | File size problems. |
| Efficient payroll support. | Limited transactions. |
| Contacts records also. | Less invoicing tools. |
| Cash flow pages. | Prone to errors. |
| Easily customizable reports. | Software lags sometimes. |
| Cloud-based. | Limited plans. |
QB Desktop Customer Reviews
When it comes to customer reviews of both Quickbooks Online vs Desktop 2020, both have variations. The customer reviews are on its three versions:  Pro, Premier, or Enterprise.
Just like QBO, the desktop also has average ratings of four stars or above on popular review sites. And most of them are positive. Let's explore its advantages and disadvantages.
| | |
| --- | --- |
| Pros | Cons |
| Excellent, customizable features | Can be expensive |
| Manage all payroll, accounting, banking, etc easily. | Customer service is unhelpful and low |
| Simple to set up and usage | Can't log in remotely to your account |
| Job costing and reporting features are noteworthy | It can be glitchy during annual updates |
| Manages Inventory | Less automation than Quickbooks Online |
| Sales Order | Windows only |
| Easy interface. | File size problems. |
| Efficient payroll support. | Limited transactions. |
| Contacts records also. | Less invoicing tools. |
| Cash flow pages. | Prone to errors. |
| Easily customizable reports. | Software lags sometimes. |
| Cloud-based. | Limited plans. |
QuickBooks vs QuickBooks Online Integrations
Both QuickBooks vs Quickbooks Online offers a huge range of integrations as well as add-on products. QuickBooks Online gives you integrations with over 650 platforms making it the best accounting software. On the other hand, QuickBooks Desktop offers 200+ integrations.
QuickBooks Online wins here as its integration covers additional business needs when it comes to having extra integrations. Its integrations also include various options for multiple payments. On the other hand, Quickbooks desktop hardly gives any payment gateways. It makes users face complications for modern merchants to approve online invoice payments.
Choosing the Right Version from Quickbooks vs Quickbooks Online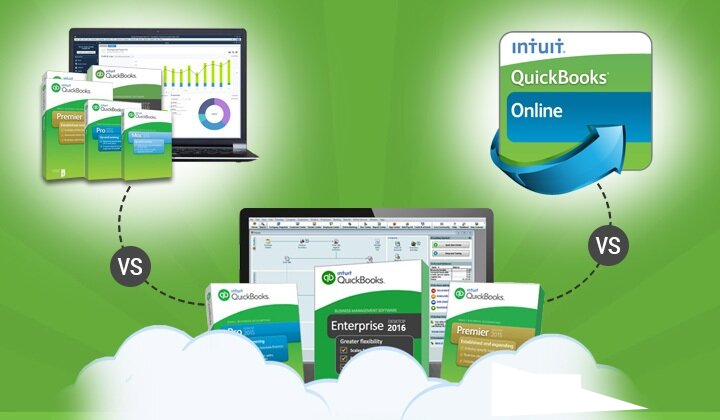 Let's explore how you can choose the best among these two accounting solutions:
QB Desktop is an Ideal Choice For:
Those businesses have a fixed location.

Businesses that require access to fewer people.

If you have difficult accounting.

Those companies that want to save monthly charges.

Businesses who don't want online access to their books.

Those businesses need customized features such as monitoring budget and spending.
QuickBooks Online is an Ideal Choice For:
Businesses that need remote access to their books and international invoicing.

In a business where many people need to access the books.

Businesses that have no issues with a monthly charge along with the additional support.

Those businesses want their data to be stored online in cloud computing. 

Businesses that are comfortable in exploring automation.
QUICKBOOKS DESKTOP
QUICKBOOKS ONLINE

What We Like

Price is affordable




Various plans offer simple scalability




Inbuilt system navigation

Plans are there for up to 25 users




Incredible reporting capability




Inbuilt design

Could Be Better

The interface needs to be streamlined




Access to support could be better




Low integration with third-party apps

Few tools hidden on navigation screen




Program response is slow at peak times




Support is available within the application

Key Features

Bills as well as accounts payable




Invoicing




Track income, expenses

Accounting




Banking




Expenses

Pricing

Pro: $399.99




Premier: $649.99




Enterprise: $1,213

Simple Start: $25




Essentials: $40




Plus: $70




Advanced: $150

Support

Chat




On-demand webinars




Video tutorials

In-product help




Product training




Phone

Ease of Use

Menu having flowchart style




Shortcuts for features frequently used




Customizable user interface

Intuitive user interface




Mobile app




Import files tool
The Final Take
Well, both QuickBooks vs QuickBooks Online is highly capable programs along with powerful accounting features. Each accounting solution has some highs and lows. You can go through this detailed comparison between the two. It includes features, integrations, ease of use, pricing, and expert opinion. 
However, the deciding factors will depend on your company type, size, and needs. Whichever you select, our detailed comparison will help you make a wise decision. If you have decided to go with any of these accounting solutions, feel free to tell us down below. Good Luck!