When you want proper Sales software for your company then it becomes super important to compare the features, pros, cons, pricing, integrations, and other crucial factors. In any business, a payment processing tool is required to carry out the transactions, payments, invoices, bills, etc smoothly. And when it comes to a safe, uninterrupted, and secure payment process, only two software are suggested: Quickbooks and Square. But how do you choose between POS Quickbooks vs Square?
Both the software have a stronghold in the market and offer unique features to aid users. Along with it, both Square vs Quickbooks offers incredible tools, features, friendly interface, integrations, and plans. But all industries are different and require different approaches. This is why you must consider a detailed comparison of Quickbooks POS vs Square including the features, add-ons, plans, pricing, payment processing, pros, cons, customer support, similarities, and dissimilarities. Let's find out which payment processing tool is ideal for your business. 
QuickBooks vs Square: Overview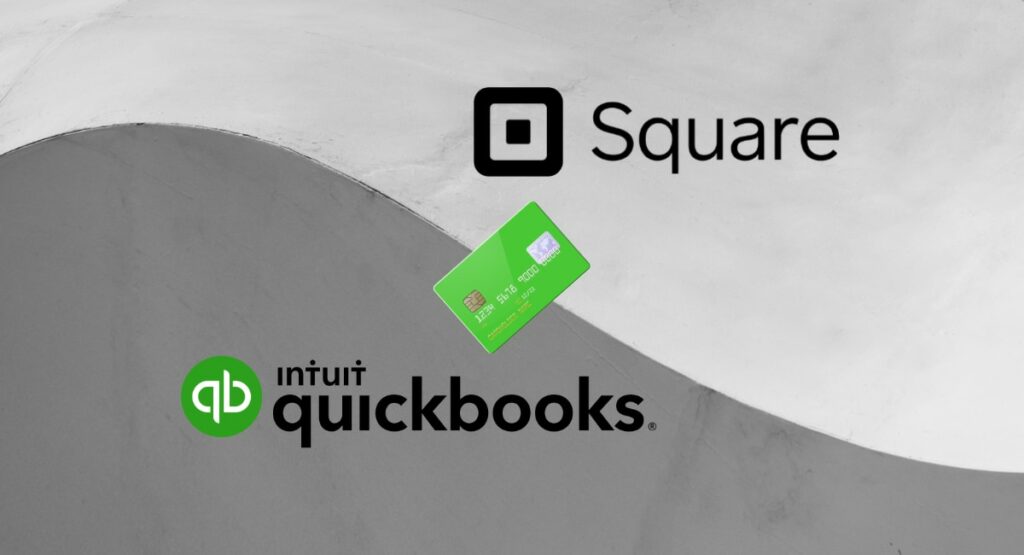 Quickbooks main concern is the safety of data. While using this software, users don't have to worry about data safety or security breach, because QB is famous for its data security. It uses QB payments to process both debit and credit card transactions.
Also, Quickbooks get easily integrated with hardware equipment such as receipt printers, barcode scanners,  pole displays, card readers, etc. With its mobile application, users can easily check the sales on the site. Additionally, you can create high-end data reports using the QB POS system.
Coming to Square, Square POS puts the main focus on the wide range of overwhelming features. Its attractive feature is its customizable dashboard as it contains everything needed for any business. It handles inventory as well as analytics effectively.
A unique factor of Square is that you can use this software in offline mode as well. Square enables its users to approve card payments without the internet also. Let's discuss the features of Quickbooks vs Square.
Features of Quickbooks POS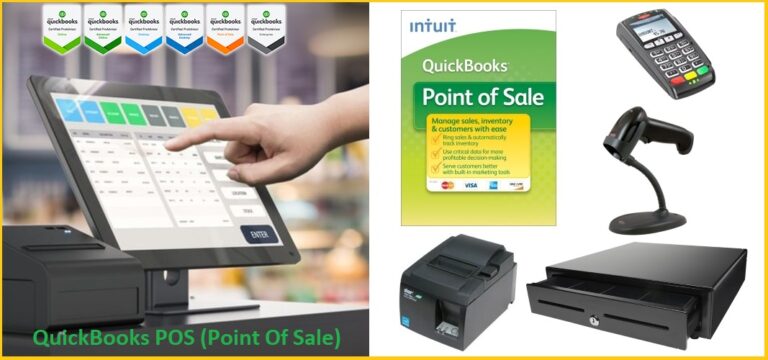 Employees Management
Quickbooks POS allows the company managers to track the performance of their employees, productivity, and their working hours. This software secures the record and updates important details within QB itself.
Inventory Management
It is the most important feature that enables users to monitor storage units, inventory stocks forecasting, tag customization, and other crucial management tasks.
Gifts Cards as well as Discounts 
By keeping the track of consumer history and purchases, QB POS understands the customers in a better way. After analyzing the purchase history, QB POS generated gift cards as well as discounts to its consumers on occasions like anniversaries, birthdays, and other special events. Through this, a strong and healthy bond is created between the customers and retailers.
Hardware Compatibility 
QB POS is compatible with numerous devices such as receipt printer, wireless barcode scanner, cash drawer, Microsoft Surface Pro, pole display, etc. 
Features of Square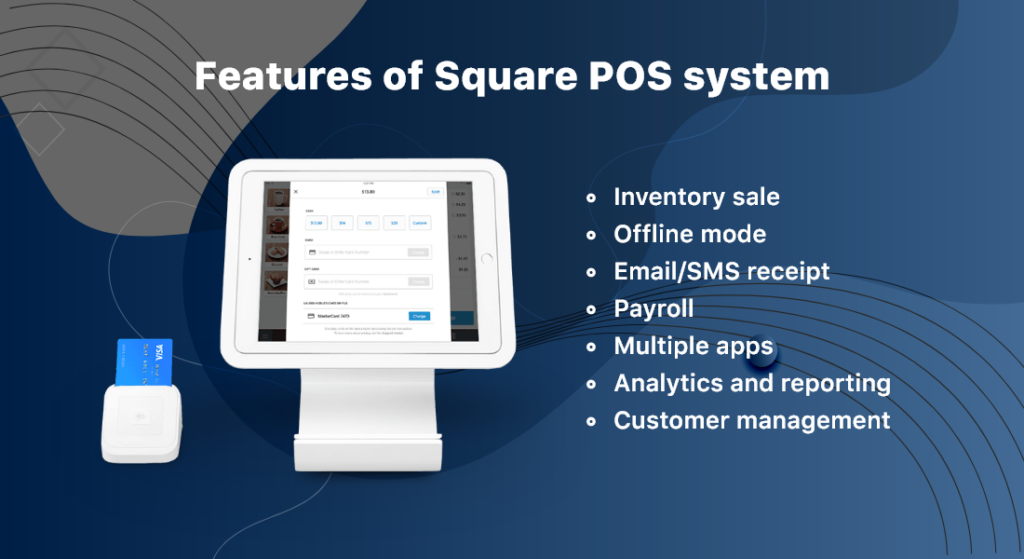 Square POS is a free application that helps users in selling and enabling the clients to buy. It offers a real and straightforward experience. Square QuickBooks Online offers better services than other products and is becoming the number 1 payment app for wholesalers and retailers.
Along with contactless transactions and payments, it helps in managing consumers' purchasing history as well as crucial data. Square has a user-friendly interface which makes it easy to handle. Let's explore more about its features.
Employees Management
Square POS is unbeatable when it comes to handling employees' data, monitoring their performance, progress, and productivity reports.
Inventories Management
Managing and tracking inventory stock becomes easy using Square. It immediately sends emails and messages when there is a shortage or unavailability of inventories. It helps in saving relationships with the customer. Additionally, selecting and offering tax discounts, tracking products, and sale receipts are done easily with Square.
Retail Management
Talking about Square Payroll vs Quickbooks, Square includes more features than QB. The bar code scanning helps in tracking stocks, inventories, and other products. Also, it makes consumers' profiles automatically that keeps all the crucial consumers' data in one place.
Online Payment Processing
When we discuss Square vs Quickbooks payment processing, the first one offers users credit card payments. With the purchasing details, monitoring and managing things becomes easy.
QuickBooks vs Square: Ease Of Use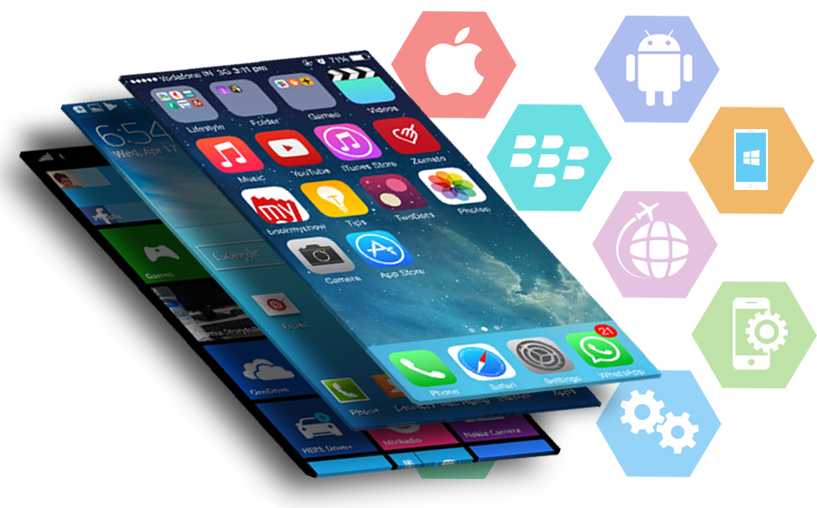 The major fact that matters is how easy software is to use. The interface should be user-friendly and easy to get. It saves users precious time by saving them from consuming extra time while finding the tools and features.
Quickbooks 
Quickbook offers a great user experience. Since QB is a Windows-only product, it looks quite familiar from the beginning. The interface is easily understandable and provides a customizable list of important tools that you use many times throughout the day.
The interface contains a navigator pane containing all the POS features. Review customer rewards, start a new sale, dig into inventory details, you can perform everything in one click. QuickBooks also offers a "Tutorial Training Guide," which helps to understand the software and customization better.
Square 
While developing Square, numerous considerations were put as it is also user-friendly. The platform includes everything in one place to avoid users from getting distracted. Even newbies can easily use this software.
Quickbooks Payments vs Square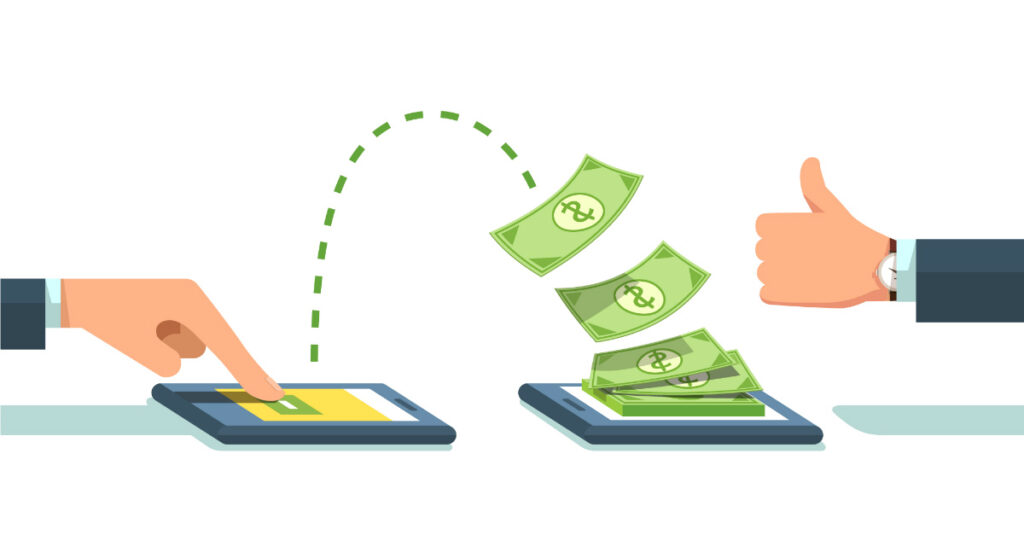 Here, Quickbooks Payments vs Square comparison is done on the basis of six factors: POS equipment, payment types, transaction fees, e-Commerce integration, bank transfers, and monthly fees. Let's explore it all.
Payment Types
On debit and credit card payments, both QuickBooks and Square Payments are identical. Both accept card payments online, by phone, and in person. Both offer recurring and invoicing payments also.
But the major distinction is that the Square also accepts cash payments and QB can't. If you are running an online store or accepting invoice payments, this won't matter much. But if you are running a physical storefront and need to accept cash payments then it matters a lot. Here, Square is the winner.
POS Equipment
To accept in-person payments, you need POS software as well as equipment. Both Square and QB have a powerful POS app. POS is the Square main app. But, in Quickbooks, you have to download the GoPayment app. The POS equipment both offers are:
QuickBooks:
One chip as well as magstripe reader for free

Extra magstripe and chip readers for $19

Contactless reader and chip for $49
Square:
One magstripe reader for free

Contactless chip and a chip for $49

Stand for chip reader and iPad for $199

Square Register for $799

Square Terminal for $299
Here, QB stands as a winner because it accepts chip payments. However, Square Terminal and Registers manage checkout requirements of any storefront retailer virtually.
eCommerce Integration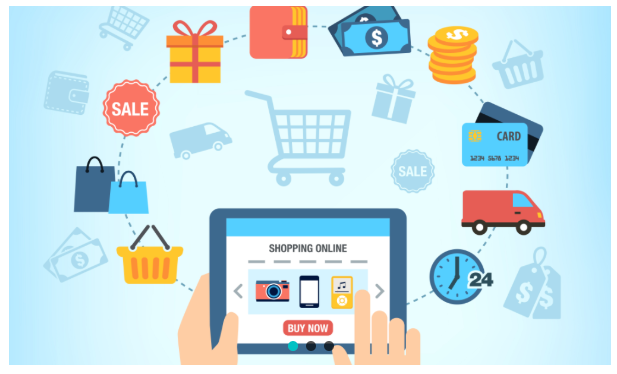 As per QuickBooks, they have well integration with two huge eCommerce platforms: Shopify and BigCommerce. They also claim that QB payments are compatible with WooCommerce and UltraCart. The great thing is that these four have huge popularity in the space of eCommerce. However, it is still just four names.
But Square offers flexibility here as it has its own eCommerce builder that is also entirely FREE. You just pay Square while making sales. Square also well integrates with numerous third-party e-Commerce builders such as:
WooCommerce

Wix

GoCentral Online Store

BigCommerce

3dcart

Ecwid

OpenCart

Miva

Magento

Drupal Commerce

X-Cart

Zen Cart
Here, Square stands as a winner simply as it provides more options. 
Transaction Fees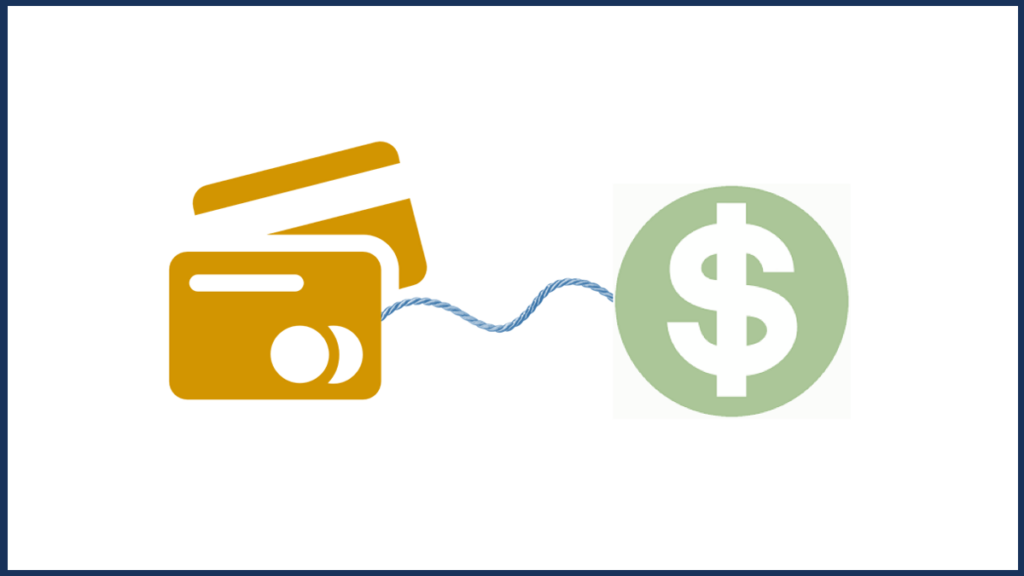 For both QuickBooks and Square Payments, the major part of the money you pay is from card transactions. Let's check out the fee structure of both companies.
QuickBooks Payments
Card Swiped- 2.5% + 25¢

Card Keyed- 3.5% + 25¢

And, Card Not Present- 2.8% + 25¢
QB Payments: For Online Stores
As you go: Zero / month

Card Keyed- 3.6% + 30¢

Card Swiped- 2.5% + 30¢

Pay monthly: $20

Card Keyed- 3.4% + 30¢

Card Swiped- 1.7% + 30¢
Square POS
Card Swiped- 2.7% + 10¢

Card Keyed- 3.6% + 15¢

And, Card Not Present- 2.8% + 30¢
Square Restaurants, Retail & Appointments
Square Restaurants: 2.7% + 10¢ ( All transactions)

Also, Square Retail- 2.6% + 10¢ (All transactions)

Square Appointments:

For individual: 2.7% + 10¢ (All transactions)

For two employers or extra: 2.6% + 10¢ (All transactions)
Square vs Quickbooks: Pricing (Plans)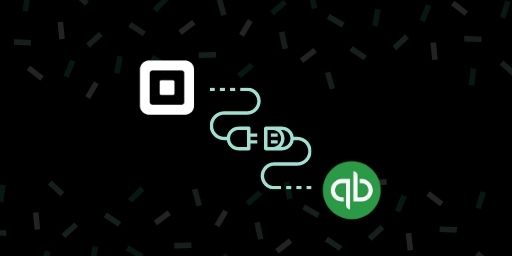 Now comes the most significant part while choosing software, which is pricing. The plans and costs of both software vastly differ. Let's explore.
Square
Here, the clear winner is obviously Square because you don't have to pay for setup as well as configuration. You just have to pay the processing fees of the software i.e only 2.7% + 10 ¢ per tap.
QuickBooks 
Simple Start: Plan starts at $25 for a month (For 1 user)

Essentials: The plan starts at $40 for a month (For 3 users)

Plus: Cost- Plan starts at $70 for a month (For 5 users)

Advanced: Cost is $150 for a month ( For 25 users)
Square Payroll vs Quickbooks
Both are cloud-based and can be accessed anywhere, anytime with a stable internet connection. There is complete payroll distribution as well as tax functionality with more features in each. The table contains details of Square and QuickbooksPayroll.
| | | |
| --- | --- | --- |
| | Square Payroll | Quickbooks Payroll |
| Plans | Payroll and Payroll for Contractors | Plans include: Core, Premium, Elite |
| Pricing | $29 for a month, additional monthly $5 per employee (no monthly payments while paying contractors) | $45, $75, $125 monthly |
| Features | Automated tax filing, employer resources, benefit management | Personal HR advice, tax protection, custom setup |
| Free trial | No | 30 days |
Also Read: 7 Incredible Accounting Software in 2021 (Pick The Best)
Quickbooks vs Square: Customer Support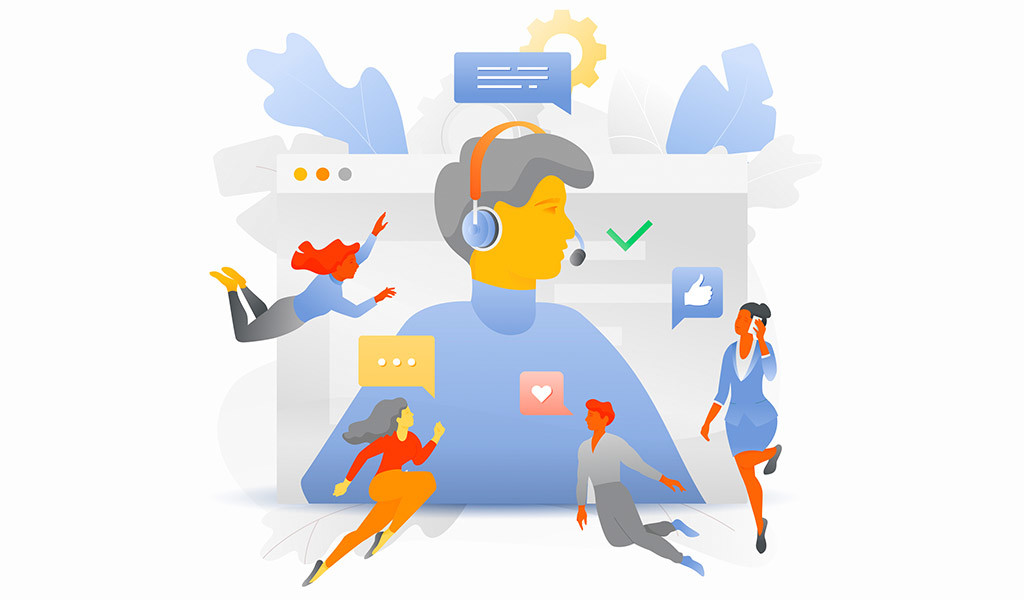 Sometimes users get stuck in some situations where they need customer support. So, better customer service is a must to maintain the reputation of any brand. Let's see what Square and Quickbooks have to offer here. 
Square's Support
Square

provides multiple customer support choices such as:

Online Knowledge Base housing numerous troubleshooting articles

A community forum

Email

Phone support. 
But it does not give the option of live chat, unlike Quickbooks. The live customer service is available from 6 a.m. to 6 p.m. from Mon to Fri. It is a drawback since if users run into trouble during weekends or after 6 p.m. then they will not get assistance.
Quickbooks Customer Support
The QB support is accessible within the problem as well as on its website. Its knowledge base includes video tutorials, webinars, help pages, and paid courses. You have to tap on the option "Contact Us" to get to the support team.
Additionally, you can also message a support agent or type up your question at a QB community seminar. It offers a 24×7 support facility in Quickbooks advanced plan. However, you have to submit a request in order to get a call.
Quickbooks Offers:
User community

In-product help

Featured articles

Connect with an agent via phone

Connecting with an agent through email

Searchable knowledge base

Connect with a support agent via messaging

Product training options
You might also like the comparison of Wave Accounting Software vs Xero Accounting Software
Quickbooks vs Square: Pros and Cons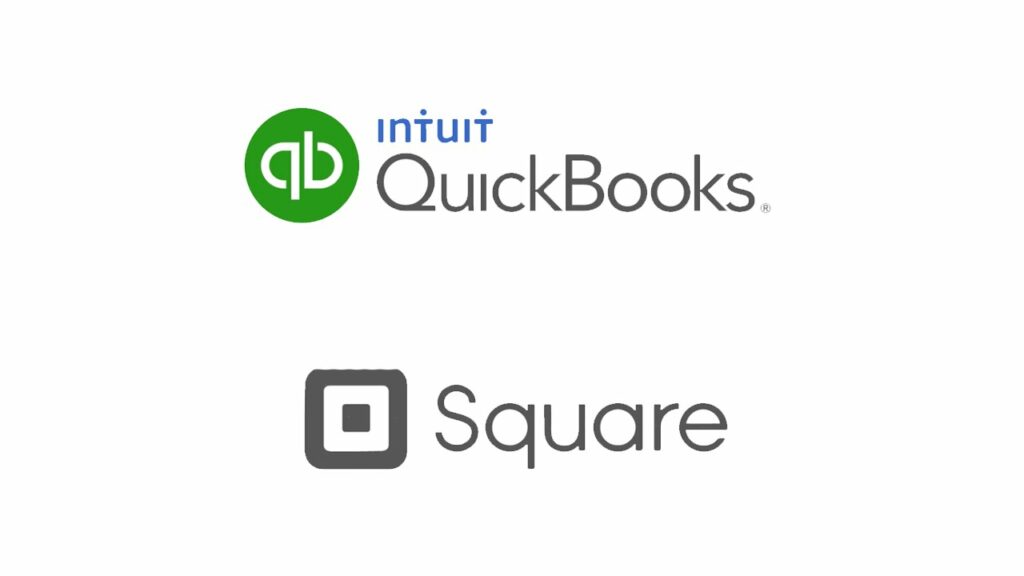 Quickbooks Advantages and Disadvantages
| | |
| --- | --- |
| Pros | Cons |
| Suggested by accounting professionals. | Requires continuous upgrades for additional users. |
| Scalable. | Expensive subscription. |
| Integration with other applications. | Syncing problems while making payments via debit/credit cards. |
| Mobile app | Absence of business as well as industry-specific features. |
| Cloud accounting. | Instability/system crashes. |
| Powerful business accounting services. | Limited users. |
| Easy interface. | File size problems. |
| Great payroll support. | Limited transactions. |
| Contacts records also and transaction forms. | Less invoicing tools. |
| Cash flow pages. | Prone to errors. |
| Customizable reports. | Sometimes software lags. |
| Cloud-based. | Limited plans. |
Square Pros and Cons
| | |
| --- | --- |
| Pros | Cons |
| Hardware options (native hardware, iPad, etc.) | More notice for changes and updates irritate end users |
| Customer interface | Printer options as well as connectivity |
| Ease of use | Not suitable for huge companies with big transactions |
| Flat-rate pricing is Predictable | Not great for high-risk business |
| No monthly fees | Some account stability problems |
| All-in-one payment | High fees for huge industries |
| Impressive feature sets | Add-on services are costly |
| Free tools | Poor customer support |
| Incredible support for merchants | High-risk businesses not accepted |
| Chip card readers are affordable | Flat-rate pricing is expensive for some big businesses |
Final Take
You should decide wisely when you need to choose between Quickbooks vs Square. Your decision will decide the future of your business, so must go thoroughly through the detailed comparison.
We completely understand that your choice will be based upon your industry type, company size, and other crucial factors. So, we have explained all in detail in this post. If you are still not able to decide then try out the free one-month trial of Quickbooks to get a brief idea about its purposes.
Finally, we hope that our comparison of Quickbooks vs Square helped you decide the best for your company needs. We provided a detailed overview describing the features, integrations, highlights, pricing, pros, cons, and many more. Hopefully, it will help you decide sensibly. You are welcome to share your reviews about each below.